Important product information
September 04, 2013
Important information in regards to attachment of SI TECH Exhaust Valves
During the years we have received some Exhaust Valves that has taken damage by incorrect attachment procedures. The information in this section is intended to prevent this to happen. The most common way of damaging an Exhaust Valve during the attachment procedure is by holding the adjustment lid and using force to rotate it when tightening the valve to the Valve Port. Please always try to have SI TECH Attachment tools available when attaching the valve onto a drysuit. If you do not have Attachment tools, please follow the guide below.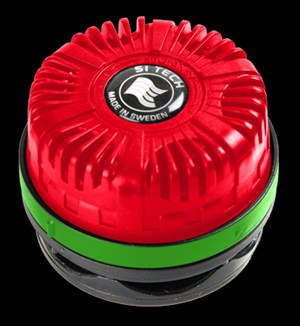 The red section of this illustration shows the rotatable adjustment lid. The green section shows the protection ring. The "black" bottom section of the valve is the attachment nut. When tightening the valve to the Valve Port, please follow these simple steps:
- Tightening of the valve is made by rotating the attachment nut on the inside of the drysuit together with the anti-friction washer and at the same time holding the protection ring, on the outside of the drysuit, in a firm grip.
- Do not hold the adjustment lid (marked red) when tightening the valve, this will damage the valve! Why? This is the rotatable adjustment part of the valve. If you by force rotate the adjutment lid beyond its end position you will either damage the lid itself or crucial internal parts of the valve.

Always strive to use original SI TECH valve Attachment tools - for best result!

Corporate Articles
At the Dive site