About us
November 01, 2013
SI TECH AB in Sweden is a development and manufacturing company supplying the diving industry with drysuit components, filling hardware and special equipment for military use. The company has a genuine history in the pioneering of equipment for cold water diving. SI TECH AB is located in the vicinity of Lysekil, which is considered by many as the diving metropolitan of Sweden. SI TECH headquarters in Brastad is housing a staff of approximately 20 co-workers with various competencies.

The SI TECH range of core products include: Inflation and Exhaust Valves, Dump Valves, Pee Valve, Seals, Dry Glove Solutions, Modular Quick Change Solutions, Filling Hardware and Gas Inflation Systems.
Inhouse competencies: CAD construction, Injection Molding, CNC Machining, EMD Machining, Turning, Milling, Assembly, Logistics and Administration. As a precision tool making company SI TECH performs subcontract services within engineering of non diving related products.
Our team of engineers, sales and marketing personell have close co-operation with end-users of our products. Our location close to seas and numerous lakes gives us great opportunities to perform live condition tests whenever there is need for it.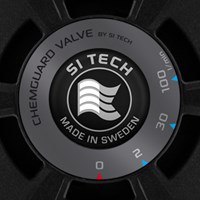 SI TECH is supplying premium drysuit manufacturers with state-of-the-art drysuit components. Our capacity of developing innovative and complex components are well known within several fields. Except for components directed for recreational diving and the industry behind it, SI TECH is also heavily involved in the development of Low Mute Valves for military purposes as well as Multi Capacity Flow Valves for protective suits etc.
SI TECH is working with manufacturers of protective suits for sailing and kayak in the development of modular solutions for quick change of seals and the opportunity of putting a dry glove system onto suits.
Corporate Articles
At the Dive site